SAFE SPORT OVERVIEW
Softball Canada recognizes its responsibility to foster environments that ensure positive, healthy, and fulfilling experiences. By prioritizing the welfare, safety, and rights of our members, Softball Canada is able to demonstrate our ongoing commitment to address the needs of the softball community in relation to safety in sport.

SOFTBALL CANADA COMMITMENT
Softball Canada is committed to practicing Safe Sport and ensuring all participants are provided with safe, welcoming, and accessible sport environments, free from all forms of maltreatment.
OPERATIONAL STATEMENT
Softball Canada's Safe Sport framework will focus on three key elements: Awareness, Prevention and Action - all of which are strongly supported by governance, policies and procedures. The objective of this framework is to ensure all Softball Canada members have access to the resources and support services they need to safely facilitate and participate in softball specific programming.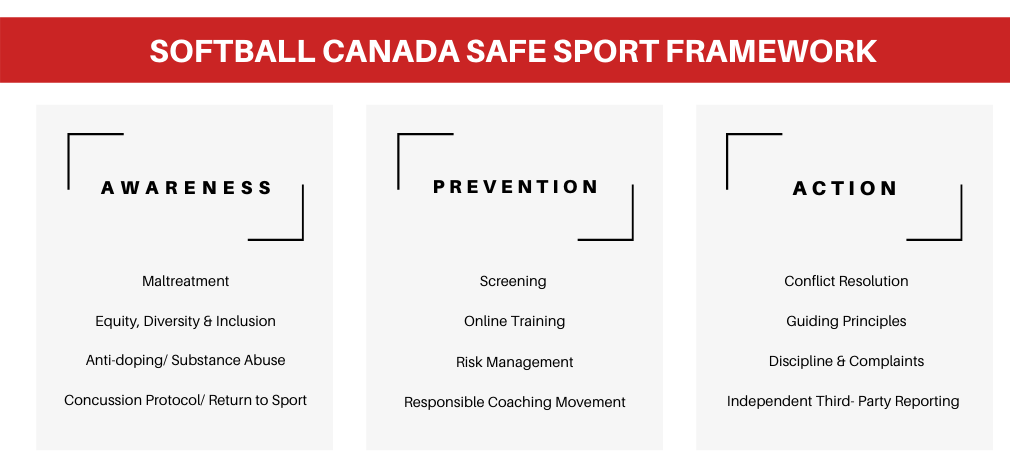 SAFE SPORT POLICY SUITE
To ensure policies remain current and continue to align with Sport Canada requirements, Softball Canada, in partnership with Sport Law and Strategy Group (SLSG) has conducted an independent review. As a result of this review, Softball Canada has adopted an updated suite of Safe Sport policies including the integration of the Universal Code of Conduct to Prevent and Address Maltreatment in Sport (UCCMS).
Softball Canada commits itself to reviewing and revising these policies as often as necessary in order to ensure members can participate in a sporting environment that is free from harassment, discrimination and abuse.   
Safe Sport Policy                                                            
Screening Policy                                                             
Athlete Protection Policy                                         
Code of Conduct and Ethics Policy                     
Abuse Policy                                                                       
Investigations Policy                                                   
Discipline and Complaints Policy                       
Dispute Resolution Procedure                              
Appeal Policy                                                                      
      Whistleblower Policy                                                        
  Event Discipline Policy                                               
 Social Media Policy                                                        
                 
                     To access the full Safe Sport Policy Manual, click here.