ANNUAL GENERAL MEETING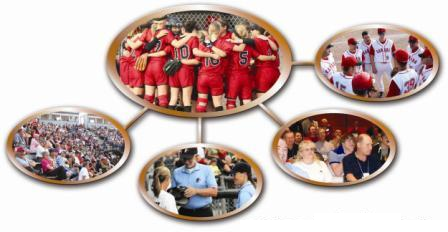 Softball Canada holds an Annual General Meeting and Congress every year, rotating between the three regions of the country (West - British Columbia, Alberta, Saskatchewan, Yukon; Central - Manitoba, Ontario, Quebec, Northwest Territories and Nunavut; Atlantic - New Brunswick, Nova Scotia, Prince Edward Island and Newfoundland and Labrador). Softball Canada works closely with the hosting Provincial/Territorial Association to ensure the proper organizing of the Annual Congress.
The Congress usually consists of a Board meeting and a Staff Forum on Thursday, Workshops on Friday and Saturday morning, the AGM on Saturday afternoon and a Hall of Fame and Awards Banquet Saturday night. Workshop topics cover various areas of Softball Canada's operations, including Canadian Championships, Slo-Pitch, Long-Term Player Development, Coaching, New Initiatives, Technology, etc. Every two years (even years), rule changes are proposed and discussed for the Softball Canada rulebook.
Concurrently to the workshops, there are also Umpire meetings, where Provincial/Territorial Umpires in Chief and members of the Officiating Development Committee discuss a variety of topics related to the Officiating program.
Delegates who attend the Congress include Provincial and Territorial Association Presidents, Board Members and Staff, as well as umpires and other observers.
---
 2023 ANNUAL GENERAL MEETING
The 2023 Softball Canada Annual General Meeting will be held November 9-11, 2023 in Niagara Falls, Ontario.
---
HISTORY
2023 - Niagara Falls, Ontario
2022 - Fredericton, New Brunswick
2021 - Virtual
2020 - Virtual
2019 - Richmond, British Columbia
2018 - Montreal, Quebec
2017 - St. John's, Newfoundland & Labrador
2016 - Whitehorse, Yukon
2015 - Winnipeg, Manitoba
2014 - Charlottetown, Prince Edward Island
2013 - Yellowknife, Northwest Territories
2012 - Calgary, Alberta
2011 - Halifax, Nova Scotia
2010 - Regina, Saskatchewan
2009 - Ottawa, Ontario
2008 - Fredericton, New Brunswick
2007 - Whitehorse, Yukon
2006 - St. John's, Newfoundland & Labrador
2005 - Montreal, Quebec
2004 - Richmond, British Columbia
2003 - Winnipeg, Manitoba
2002 - Summerside, Prince Edward Island
2001 - Edmonton, Alberta
2000 - Kitchener, Ontario
1999 - Halifax, Nova Scotia
1998 - Saskatoon, Saskatchewan
1997 - Toronto, Ontario
1996 - St. John, New Brunswick
1994-95 - Whitehorse, Yukon (Apr 1995)
1993 - St. John's, Newfoundland & Labrador
1992 - Calgary, Alberta
1991 - Winnipeg, Manitoba
1990 - Charlottetown, Prince Edward Island
1989 - Vancouver, British Columbia