Timbits Softball Program T-shirts 2019
This year on behalf of Softball Canada and our sponsor Tim Hortons, we will be providing Timbits Softball t-shirts to selected registered Timbits Softball groups across Canada. These t-shirts are provided for groups who are members and in good standing with their Provincial/Territorial Association.
Please select your province below to start the process. (If your Province/Territory is not listed, you will need to contact them directly.) You will then see the color and size choices available for association.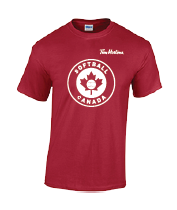 While we try and accomodate as many assocations as possible, there are limited quantities available and all orders will need to go through an approval process with the Provincial/Territorial Association prior to shipping. These t-shirts are provided at no cost to your assocation and we hope that they add value to your program. 
Shipping will take between 7-10 business days from the day your order is approved. Please keep this in mind when ordering and provide enough time for your players to receive their shirts prior to the start of your season.
When making an order, you will be asked to include shipping information as well as information on your Timbits Softball Program. Should there be information missing or additional shipping needs, these will be at the cost of the association placing the order.
PLEASE NOTE THAT P.O.  BOXES WILL NOT BE ACCEPTED FOR SHIPPING.
Should you have any questions or concerns regarding the ordering process please contact aballantyne@softball.ca or call 613-523-3386 ext 3107.
---
Select your province / territory